** PLEASE NOTE THE CHANGE OF VENUE – FOR ONE MONTH ONLY **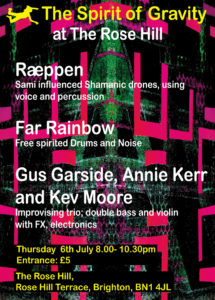 Far Rainbow
Drums and noise
Far Rainbow are an improvising duo using drums, sellotape, plastic bags, toothbrushes, motors, pencil sharpeners, electrical hum, and thunder storms. Their album, The Power of Degenerated Matter, was recently released by the Slightly Off Kilter label, following various cassettes and CD-Rs on Zero Wave and Linear Obsessional. Their music has been compared, by Paul Margree of the We Need No Swords blog, to "the free-spirited electronic kosmische musik that Hans-Joachim Roedelius and Dieter Moebius may have created in their Cluster heyday if they had King Tubby rather than Conny Plank producing it."
Ræppen
Sami influenced Shamanic drones using voice and percussion
…mixed with modern music technology to create hypnotic soundscapes, Ræppen is the work of a Nomadic travelling Shaman who travels the planet playing ritualistic drones. Not much is known of the Shaman but when the ritual is performed the Shaman will use hypnotic rhythms to develop a trance like state to be at one with the spirit world.
Annie Kerr, Gus Garside and Kevin Moore
Improvising trio: double bass and violin with FX, electronics
Annie Kerr (Violin and electronics), Gus Garside (Double bass and electronics) & Kev Moore, (synths and electronics) are all members of and regular players at Brighton's foremost free improv night 'Safehouse'. Annie and Gus have a long history of playing their acoustic instruments through effects chains and all three have played together in various combinations with and without effects many times. It being improv, could go any way, but we are expecting scrapes, scratches, swoops, excessive delays and bassy rumbles.
PLUS special guest, get down early for minimal impact
Thursday 6th July 2017 | 8pm – 10.30pm | £5
@ The Rose Hill
70-71 ROSEHILL TERRACE, BRIGHTON, BN1 4JJ