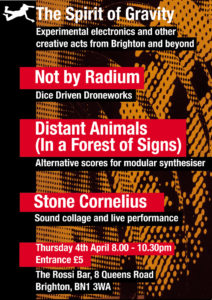 Not by Radium
Dice Driven Droneworks
Promoting the new release on the Spirit of Gravity netlabel "A Symphony of Bones", Not By Radium, I'm Dr Buoyant's occasional project concentrating on longform works, uses samples that have been stretched, overlaid and manipulated to create work of epic loops and drones, selected, sequenced and organised according to the roll of dice.
New Release: https://spiritofgravity.bandcamp.com/album/a-symphony-of-bones
https://soundcloud.com/im-dr-buoyant
Distant Animals <In a Forest of Signs>
Alternative scores for a modular synthesiser.
Distant Animals <In a Forest of Signs> is the artistic output of Daniel Alexander Hignell, a researcher and sound, video and performance artist from South East England. Hignell has developed a practice indebted to political and participatory resonance of creative acts, interrogating notions of autonomy, collaboration, and the tension between sense (what is perceived by the senses) and sense (what is made sensible by the community). He has recorded, written, performed and researched numerous socially-oriented sound works across Europe, often choosing to work with a diverse range of collaborators, including visual artists, choreographers, theologians, lawyers, and political activists. In 2017 he was awarded a doctorate in Musical Composition from Sussex University. He will be continuing his research into alternative means of scoring for the modular synthesiser, to create a long-form electronic audio-visual work.
Daniel's album 'Lines' is available: https://hallowground.bandcamp.com/album/distant-animals-lines. His next album 'Weaves' is soon to be released on Hallow Ground.
Last time he played for us was just after releasing his drone masterpiece Lines and he dressed like a rabbit in a tux, or a member of DAF and played a monstrously beaty set accompanied by a painter.
Stone Cornelius
Sound Collage and live performance

Stone Cornelius brings together voyeuristic sound collage of background life in the city with live performance of activities that pass the day. An unsettling blend of actuality, and things as they actually happen.
Thursday 4th April 2019 | 8pm – 10.30pm | £5
Downstairs @ The Rossi Bar
8 Queens Road, Brighton, BN1 3WA