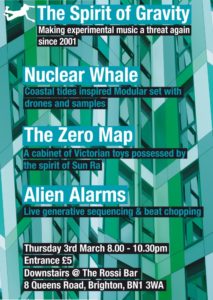 Alien Alarms: live generative sequencing and beat chopping
The Zero Map: A cabinet of Victorian toys possessed by the spirit of Sun Ra
Nuclear Whale: Coastal tides inspired Modular set with drones & samples.
Alien Alarms: Trying to sound like a drummer trying to sound like a drum machine someone is trying to make not sound like a drum machine. With the never before heard sounds of DozenCrows' custom built synth hardware.
alienalarms.bandcamp.com/
The Zero Map: Since 2008 Chloe Wallace and Karl M V Waugh have made psychedelic ambient noise and had fun doing it
thezeromap.bandcamp.com/
A review of the Zero Map live at a previous Spirit of Gravity show: radiofreemidwich.wordpress.com/2012/05/22/artifacts-of-the-no-audience-underground-the-zero-map-live-spirit-of-gravity-2011/
Nuclear Whale, aka Jonathan Ridley, presents a coastal tides inspired Modular set encompassing drones and samples. In this performance Jonathan shall be presenting his first ever modular performance and improvising his performance from scratch. His work is influenced by performers such as Stars of the Lid, Popol Vuh, Allesandro Cortini, Tangerine Dream, Aphex Twin and Boards of Canada.
Thursday 3rd March 2022 | 8pm – 10.30pm | £5
Downstairs @ The Rossi Bar
8 Queens Road, Brighton, BN1 3WA