October 2017
Green Door Store
Benen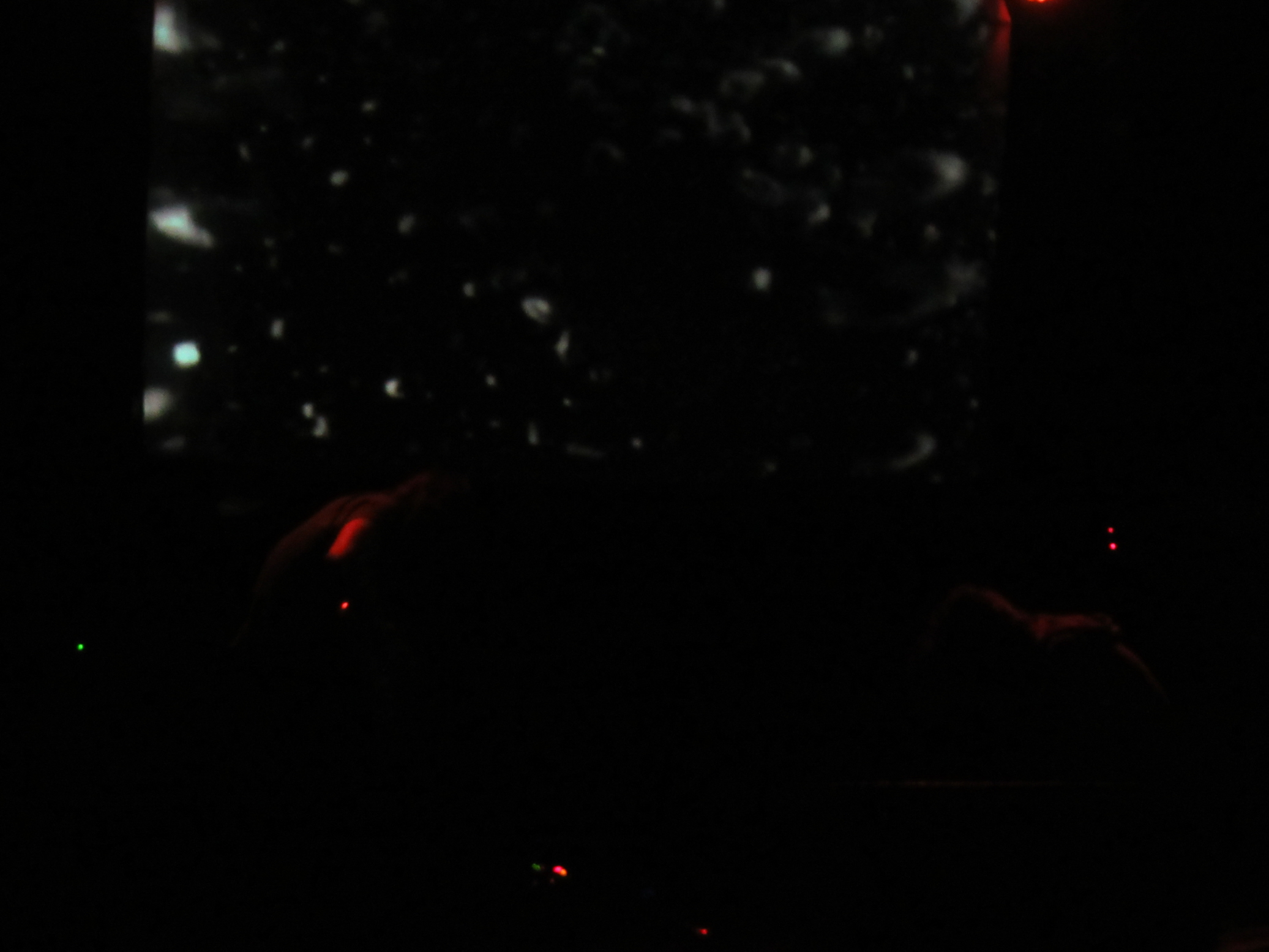 Benen start the evening off, they are onstage one sitting on a low chair with a guitar, mostly bent over to control pedals and loopers, the other sat on the floor, with a mic and he's similarly mostly bent over working away at devices. They counterpoint this low visibility with a nice set of abstract visuals. They eschew using the loopers for thickness, instead deploying an almost empty sound, some really nice scratchy loops that crackle like wax cylinders, wisps of feedback like a docker whistling several warehouses over. Occasionally you get notes of guitar ping or some sustained notes. There's a bit of imaginative e-bow work as well. A subtle double track of an ascending guitar part with some worrying rubbing sounds that builds to a creepy crescendo quite lacking in histrionics, before dropping off to another creepy start, breaths and little bursts of treble.
---
Onin
Onin base themselves in the room area, sax and acoustic guitar played improv style, both playing back through small amps. Thin rails of quiet feedback attenuated by breath and direction. I don't think I've seen such exquisite low volume control of it. At one point the sax player tilts back like a member of a 40s big band and instead of the honking overblown solo expected to erupt, there is a forceful piercing tremolo of almost horrific intent.
---
Well Hung Game
Well Hung Game finish the night off. Quite properly, there is some superficial overlap with Onin, but Well Hung Game set up on the stage and process the baritone sax directly through a monster effects chain. It starts off low key with thin tapers of sax warping off into swirls of delay and threads of distortion. They actually keep it pretty sparse which considering the potential for mayhem the GDS supplies it very restrained, occasionally flurries get into tail chasing loops that build up into something approaching terrifying, but they pull back before it gets out of control. The sax gets to work out in the more guttural regions as you'd hope from a baritone, but he spends plenty of time confounding you in the upper registers as well. During the final stages the saxophone is so twisted by the effects, gated to all hell it sounds like an electric guitar.
---