December 2021
The Rossi Bar
So Dolly Rae Starcore stands in at the last minute for someone laid low by The Rona, for which we are grateful, and happy. Starting with a stroke of the Zither and a massive boom off the mic. Arrayed before her on the table a selection of small percussive objects, two large brass singing bowls, her book and the sheath of papers from which she will read. She reads, pings the Flexatone shakes the shakers and reads, she gently strokes the singing bowl which booms beautifully. One of the singing bowls is a quarter full of water which modulates it when swirled. She reads, pings the percussion. The atmosphere builds, some unaccompanied sections, some densely swirled about. Chimes.
---
Andrew Greaves filling the middle slot, playing through his latest release, songs and improvisations based on loops of his father singing that were recorded on cassette before he died. The set starts with a manipulated loop of the singing all the consonants lost, murky, monkish. Over this a crisp rhythm track starts up. Slow organ rolls out and back, arpeggiates, the voice wanes. The organ parts thicken, overlap. The voice returns. The second part is structurally the same, it floats more. There is a lot more space and what sound almost like guitar parts. Dogs. A Casio organ solo emerges, the whole thing slowly dissolves into space winds.
---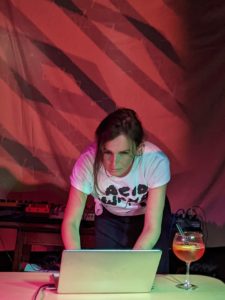 The last time Xylitol played for us it was a set of DNW inflected fun played on toys and cheap synths, this time Catherine turned up with a laptop for a set of kosmische drum and bass. It's got the same sense of fun as before but the tempos are ramped up. There are hints of Harmonia, pointillist interlocking rhythmic keyboard parts fix inside the drum parts before it gets abstractly into resonant pitch shifting frog drums. We nod our heads. The next track almost starts like an Irresistible Force remix, before getting into some serious rhythm scrambling and deranged bassline before allowing the piping melody line to whistle through. The last track starts with a high level of scrambled drums and repeated pinging keyboard parts, repeated to the point of delirium. All the melodic parts steamroller while the movement is all in the drums before eventually the melodic parts all break down into new patterns and the drum cycling starts again.